This report covers April 21, 2021 to May 20, 2021.
Let's cross these bridges right now!
Most of the news for this period are related to the DEX listings and related bridges, see below!
Hypernodes
Current Hypernodes ROI is 18.2%, down from 19.5% in April. We count 249 active Hypernodes with a total amount of active collateral of 6,950,000 BIS. That's an increase of 18 active nodes since the last report.
The plot below shows all Hypernodes, both active and inactive, during the last 60 days. As can be seen from the plot, the number of Hypernodes is currently at 312, down by 3 nodes since the last report.
The plot below shows the total Hypernode collateral, both active and inactive, during the last 60 days. As can be seen, the total amount of collateral is 8,450,000 during this period. The total amount of BIS in circulation is 28,03 million. Hence, the amount of active collateral accounts for 24.8% of the total supply, or 30.1% if the amount of inactive collateral is included.
Ecosystem
Tornado Wallet
Thanks to our pluggable wallet architecture, it's easy to add features to the wallet and that's what we did for both ETH and BNB decentralized bridges. You can swap between BIS (native) and wBIS (ERC-20 or BEP-20), 1:1, right from your Tornado wallet.
Two releases of the Tornado wallet were therefore pushed. You can always find the latest one in the release section of the Tornado Wallet Github (direct link).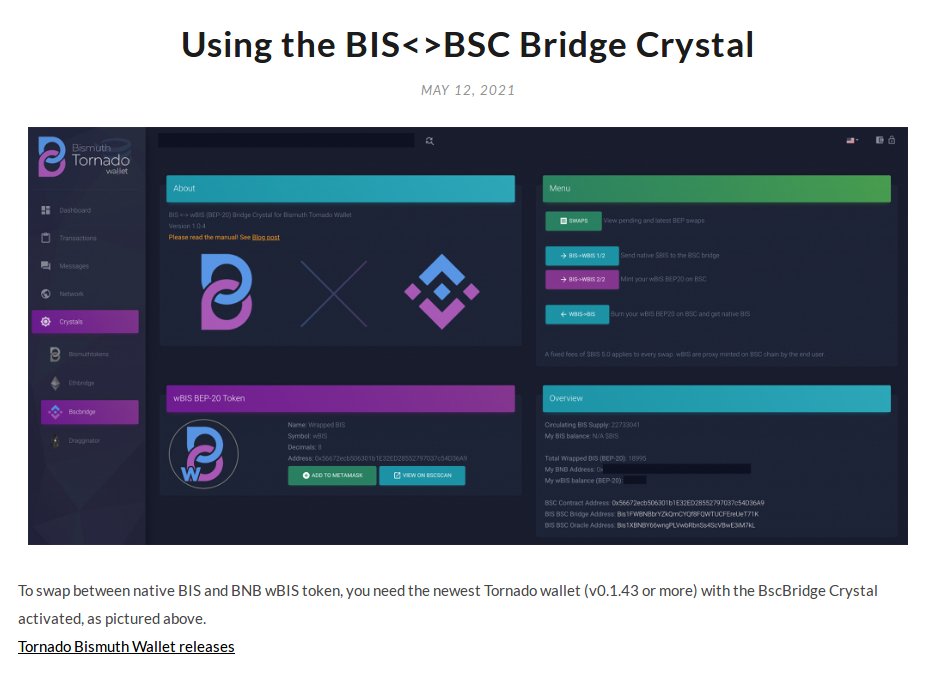 Media and news
A fresh website: we are pleased to unveil a new website, centered around wBIS & catered to new users. With a modern & minimalist theme, this new website showcases Bismuth's utility, shares relevant resources, and highlights details on minting/releasing wBIS. Check it out at https://bismuth.finance/
You tube: Bismuth now has an official You tube channel.
What you can do:
play the current video
subscribe
comment with a positive vibe
embed the video on social medias/posts.
suggest content/script for upcoming videos you'd like to see
Using Tornado wallet to convert BIS to wBIS (and the other way as well), video tutorial
Bis farming on ETH, video tutorial by Damian:
Bismuth in Top #10 trending crypto by CryptoCrunchApp:
Python Love
Here is an overview of the free dev ebooks you could have by following twitter or the "dev" section of our Discord:
Advanced Deep Learning with Python
"Gain expertise in advanced deep learning domains such as neural networks, meta-learning, graph neural networks, and memory augmented neural networks using the Python ecosystem".
Free Udemy video course: Python Programming Beginner to Advanced. MongoDB, SQLite, List, Tuple, Python OOP, Python Online Training with Python 3.
Hands-On Docker for Micro-services with Python "A step-by-step guide to building micro-services using Python and Docker, along with managing and orchestrating them with Kubernetes"
Other dev related content:
Friends of Bismuth
Nyzo runs a Hackathon!
Submit an open source app using Nytro – the newborn tokens protocol on top of Nyzo – and get up to $10000!
Moreover, apps relying on tokens you may submit there are likely to work in a very similar way on Bismuth which uses a very similar protocol.
Meaning, you could make your app Bismuth compatible or even cross-chain, and get rewarded twice…
Exchanges
Main work since last progress report has been revolving around Uniswap and Pancake Swap listings.
In addition to opening Bismuth to larger existing communities, this was also a way to showcase Bismuth flexibility and strong features.
Decentralized, bi-directional bridge with a custom Bismuth protocol
ETH and BSC oracles – Yes, oracles, live on Bismuth!
Flexible wallet with a plugin architecture, allowing direct integration of the bridge in the wallet.
Seamless operation since the bridges started.
In addition to the purely technical work of creating the bridges themselves – and related smart contracts on ETH side – significant work has been put into the related components: doc, tutorials, videos, press releases, validating accounts, requesting logo and info updates, creating liquidity pools and farms, managing the telegram and new users questions…
You'll find the various related blog posts below, they detail everything you should need for ETH as well as BNB.
ETH related links:
Native BIS are now swappable 1:1 with ERC-20 wBIS.
Binance Smart Chain related links:
Native BIS are also swappable 1:1 with BEP-20 wBIS.